Linking up today to Emily's blog!!

It's THURSDAY, you know what that means....
"embrace the camera"!
Get out your cameras and get in front of them.
your kids want pictures of you in them.
so, do them a favor and say CHEESE!!
Click here to see how I got this idea from this inspiring blog: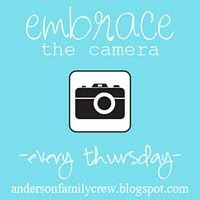 Last Friday Joe and I went to a PACERS vs BULLS game.
It was awesome! I grew up a die-hard BULLS fan...Jordan era, and never got the chance of seeing a game in person. So this was amazing. He got the tickets thru work and we even got a private suite for us & his co-workers! We felt famous, ha ha! So much fun!!